When people think of a limousine service, they think of luxury.
The team at Interline Munich think of efficiency.
Getting from the region's key airports in Munich, Nuremberg or Augsburg in comfort, or turning up in style at an important event, the limousine is probably the method of transportation that best meets your needs.
Offering the highest standards of comfort and, if necessary, the latest in office equipment, Interline Munich's limousines, minivans, buses and SUVs are at your disposal to allow you to make full use of your valuable time. And what's more, you keep your cool and improve your efficiency.
Elegantly attired in suit and tie, an Interline chauffeur will get you to wherever it is you need to be quickly, safely and in comfort - the fascinating BMW Welt, the Pinakotheken galleries in the art district, the Munich exhibition centre or even one of the numerous winter and summer sports and recreation areas Bavaria has to offer. In a vehicle from our fully serviced fleet, which comprises the most recent models and types available from the world's leading manufacturers.
Our fleet also includes minibuses to chauffeur smaller groups - if necessary together with all their sports equipment. With refreshments, newspapers and other amenities on board, our multi-seater vans meet the highest demands with regard to exclusivity, versatility and comfort.
You can rest assured that we will always have just the vehicle you need, be it from one of the region's greats - BMW or Audi - or from another leading manufacturer. Driven, of course, by a reliable and discreet chauffeur who not only knows his way around Munich, but who is also at home in the other business regions and tourist areas in Bavaria.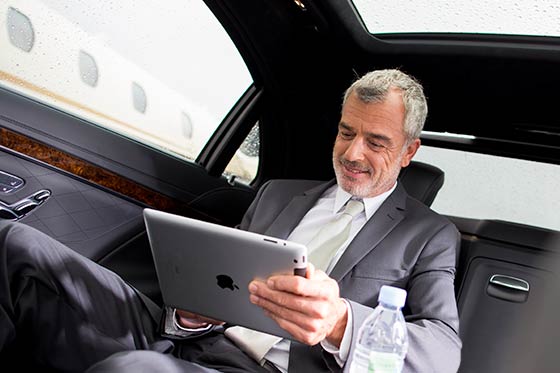 You should book us:
because of long-standing experience in premium segment
because you get the same high quality worldwide
because we offer high safety because of DEKRA certified, permanently employed chauffeurs
We are specialized in:
Shuttle service for example for events
Limousine transfer service
As directed limousine service
Sightseeing tours
Shopping tours
Roadshows
Wedding Tours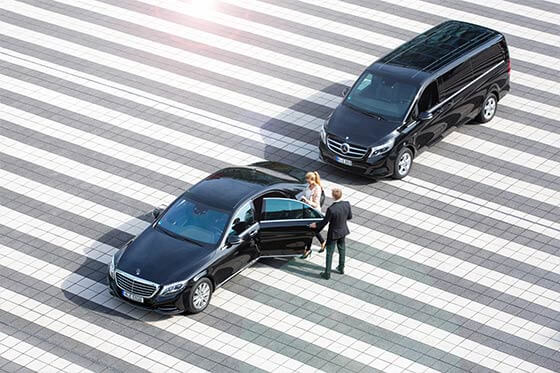 Your own car is your pride and joy. That's what our chauffeurs think, too.
Sometimes you just can't be bothered to get behind the wheel of your own car. Or maybe you do actually want to use your car, but you really have to finish off some work on the way from your hotel in the heart of Munich to an important business meeting in one of the region's many business and industrial parks and need someone to do the thinking and the driving for you. This is where Interline's exclusive chauffeur service is the perfect solution.
Our multilingual chauffeurs - all "suited and booted" just as you want them - will be more than happy to take over the task of driving to allow you to get on with your work or simply to relax. And like all Interline chauffeurs, the unique team that assumes responsibility for either your own car or, during events, even your entire company fleet is not only specially trained for the job, but also fully familiar with Munich's network of roads. Your chauffeur also knows the best place for the most spectacular view of the Alps or which mountain railway will get you to the summit fastest.
Each and every one of our chauffeurs takes his chosen profession seriously, meets the appropriate legal stipulations necessary for the job, and has excellent local knowledge. Absolutely professional, reliable, flexible and courteous, all Interline Munich chauffeurs are permanently employed by us and regularly attend vocational training seminars and driving safety courses.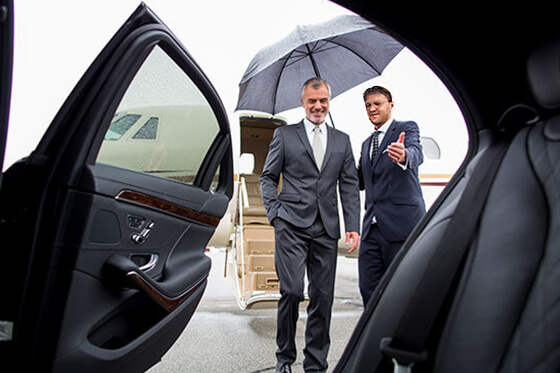 What makes our Chauffeur Service special:
Absolute discretion because of indentured staff
Quality and safety because of DEKRA certified, permanently employed chauffeurs
What offers the INTERLINE Chauffeur Service:
Business chauffeur
Privat chauffeur
Sightseeing chauffeur
Chauffeur for weddings
VIP chauffeur