The Financial Roadshow: Meeting business partners and shareholders - worldwide.

One thing hasn't changed since time immemorial: if you want to do business, you have to travel. During a financial roadshow, top executives of a company meet with potential or current investors to discuss business.
These dialog and presentation trips can last several days or weeks and can span financial centers around the world - so getting through should be well organized.


INTERLINE Munich manages it - reliably, comfortably, discreetly and securely.
we pick you up from the airport and bring you to your hotel or to your business appointments
we organize your onward journey to the next city to your next appointment - also in combination with flight & chauffeur service
We organize your roadshow from A to Z - worldwide

INTERLINE Munich will be happy to assist you with the smooth running of your financial roadshow - also with the active support and central organization via our One-Stop-Shop, which guarantees you a central contact person for all specific matters with us.
The advantage: You will always find the same contact person at the other end of the line, where all threads come together and who is in the picture about your booking and your project.


Long experience and routine

And yet - always individual attention - you benefit from our many years of experience in this area as well - our chauffeurs have excellent knowledge of the localities and the respective specific traffic situations on site - and thus also of the driving times between several appointments: you will not be pressed for time. If necessary, our chauffeurs also take over errand and errand running tasks - an additional helping hand at the right moment can be irreplaceable.

One stop store and aircraft charter service

Any rebooking of your flights can be handled through our One-Stop-Shop - we at INTERLINE Munich also act as a broker through an Aircraft Charter Service.
You can relax between meetings or concentrate on your core project - and leave the rest to our trained, friendly and courteous staff.

On request, we can equip your vehicle as an office-to-go - with WLAN and modern office communication.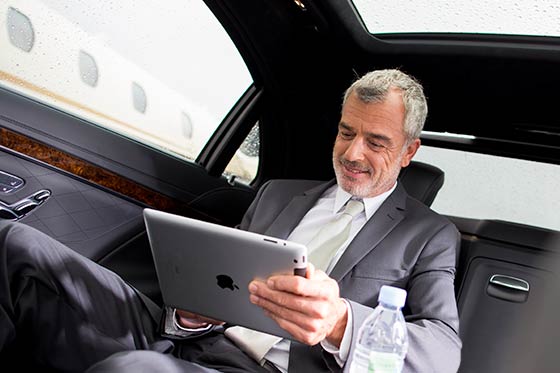 Financial Roadshows - our offer - your advantages
Everything from a single source: our one-stop store provides seamless support - worldwide
Aircraft Charter Service - we take care of your flights
Reliable, trained and friendly staff
Worldwide networking through international partners
Our vehicles: modern, comfortable and safe
In our fleet of vehicles you will find modern and elegant limousines or minivans of any size and equipment and buses equipped according to your wishes for the very big and long tour!
Our fleet is subject to a regular safety and maintenance cycle to ensure the greatest possible safety.
Our vehicles can be set up as "Office to Go" and the buses can be equipped with DVD player, internet connection and other technical means on request.

They can be booked in the size of six to fifty seats and have toilets and, on request, on-board staff.
Our drivers
Our chauffeurs are certified professionals - friendly, discreetly experienced and permanently employed by INTERLINE Munich - we know each of them as a reliable employee - special requests are neither foreign to them nor too much.
Our drivers are multilingual and will show up to your roadshow in a suit and will also take care of errands and errand running.
Our chauffeurs are well acquainted with the particularities of each destination, have excellent local knowledge and regularly take part in further education and driver training courses.

The INTERLINE Munich Roadshow Service - professional, reliable and flexible.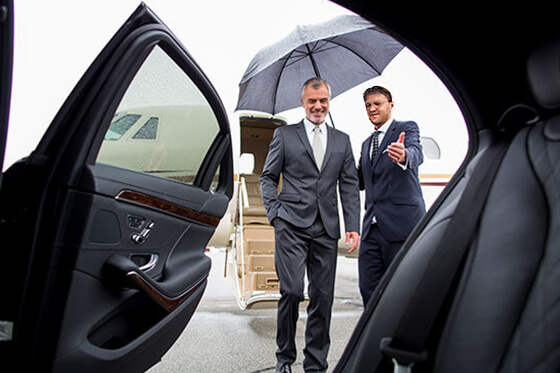 What makes our chauffeur service special:
Highest discretion and reliability through committed employees
High flexibility and adaptability: every roadshow is different - and should be!
Quality & safety through DEKRA - certified, permanent employees